Hey Guys,
Welcome back to our bi-weekly blog from partners Nutrikate
With the festive season in full swing, why not try something new (something high in protein too) and give this delicious recipe a try!
Let us know if you try it and tag us and Nutrikate in your pictures!
Have fun experimenting in the kitchen!
Hey Guys!We hope you all had a lovely weekend. With just over a week to go, it's safe to say the Christmas period is well & truly upon us. We understand that Christmas isn't an easy time for all & we are thinking of anyone who finds this time of year particularly difficult. We touched on whey protein powder & it's versatility in the last newsletter. So this week we wanted to share one of our favourite snack recipes that contains whey protein powder!
The NutriKate Pro Nut Square
This is one of our favourites snacks. We hope you enjoy it too! The below recipe will make 8 servings so it's a nice one to share with family over the Christmas period.
Ingredients:
50g sultanas
100g vanilla whey protein powder
100ml whole milk
80g mixed nuts
25g sesame seeds
100g 85% dark chocolate
50g maple syrup
80g oats
Method:
Melt the dark chocolate and add the maple syrup to this melted chocolate
Chop/break up your nuts
In a large bowl, add your milk, whey & mix
Add the chocolate & maple syrup to the large bowl and mix
Add the remaining dry ingredients & mix
Line a baking tray with greaseproof paper & pour your mix into it
Keep in the fridge until hard & then divide into 12 pieces. You can keep it fresh in the freezer!
Nutritional content per square: 197kCals, 10g Protein, 11g Fat, 13g Carbohydrates
If you do try your hand at our prot nut squares, please be sure to tag us on Instagram (@nutrikate_com) & use the hashtag #nkrecipes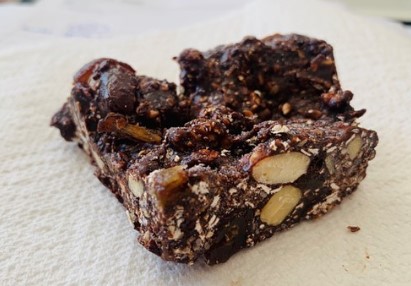 Wishing you & yours a very Happy Christmas!
Thank you all for your continued support throughout the year, it is very much appreciated. We hope you all have a lovely Christmas, I think this year we will appreciate it more than ever.
The NutriKate Team 🍍
Think we help you?
Is it time you got a handle on your nutrition once and for all? Think the NutriKate team might be able to help? Contact us on info@nutrikate.com to see what we can do for you!
Have a fabulous weekend guys!
Until next time,
The Excape Team ✨